With the introduction of professional digital cameras or DSLR (digital single lens reflex camera) and the ability to retouch and edit photos on the computer, all of a sudden the world of professional photography was open to many more people. The specialization of newborn photography was born. Fast forward to today, the field of newborn photography is a very saturated market. Who wouldn't want to photograph those sweet little curly bundles of joy? As with any specialization in any field, there are many who will try, and many who will drop out as they discover it is not quite as easy as it looks. You may have known someone that had a newborn session done, either by seeing their images or hearing about the experience. It has become one of the most popular reasons to book a session with a professional photographer today.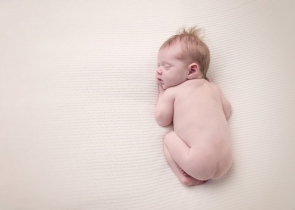 The field of professional photography is a much different animal than 20 years ago. Portrait studios used to be a store front on main street or a visit to your favorite mall studio often housed inside a larger department store. They all offered basically the same service, similar backdrops, maybe a few props depending on the occasion. Babies were certainly a popular subject in photography studios, though the options for different poses, sets and props was very limited. The baby poser was perhaps considered the one must-have tool of the trade.

The early 90s brought one photographer to the spotlight, Anne Geddes. Her books showcased babies of all ages placed in carefully crafted sets. Some of her work highlighted the beauty of the sleeping newborn in various poses and sets, simple and pure. Today she continues to be an active influencer in the world of newborn photography.
But why, you may ask. Why would I feel the need to book a 2-plus hour session months in advance to ensure it is held within the first 2 weeks after baby arrives? It all sounds kind of stressful and expensive, you may be thinking. Plus, everyone seems to have a smart phone today that takes amazing pictures, with filters, can't I just do it myself?
The easy answer to all of that is you don't have to and yes, you can. But let's look at why so many people feel the drive to capture their precious new baby through the lens of a professional photographer. It used to be thought that newborns were just wrinkly and skinny, just not really that cute yet. With talent such as Anne Geddes posses, the world began to look at newborns in a whole different light, literally. Her images show how tiny and delicate, how sweet and precious this new life is, often posed in a way that will only be possible for a very short window of time. As digital photography became more affordable and it was no longer necessary to house a whole dark room, newborn photographers was a thing as many people became obsessed with taking pictures of teeny tiny babies. As a baby grows it becomes much more difficult to pose them in ways that represent how they lived in the womb. They begin to adapt to their environment by growing, stretching out and being awake for longer periods of time. Those first couple of weeks are such a special time, and it goes by so fast. Parents all over the world now want to remember this special time by capturing how tiny and amazing this new little person is.
Maybe you now understand the why. But how? Let's take a look at what goes into becoming a newborn photographer. First, there is no one formula for newborn photography. Today you can go to a professional studio that will provide outfits, props, backdrops, complete with either print and/or digital image packages, wall art and albums. The option also exists to hire a newborn photographer to come to your home. Some focus on more lifestyle images that showcase natural posing and family interaction in your home. While others may bring a whole trunk full of studio equipment including everything from lighting, to posing tools and props, very closely duplicating the studio experience, but in your own home. There are all different prices ranges, and levels of service, making it pretty easy for almost everyone to find a photographer that fits their needs and desires. Some limit newborn sessions to the first two weeks, others will welcome babies of all ages in, with adjusted exceptions of what to expect as baby grows.

The field of newborn photography is very competitive today, giving parents many options. Once you have decided that, yes, you do want to capture these special memories professionally, you may find endless lists of newborn photographers to chose from. Sometimes this can actually become overwhelming. In a future blog article I will look more closely at how to chose a newborn photographer that fits your needs.